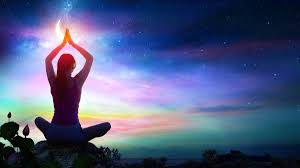 If you're interested in starting to live a more conscious life, one of the most important practices you can develop is a habit of daily meditation. Even just taking five minutes every morning or evening can have an incredible, long term positive impact on your well-being and overall levels of happiness.
There are many studies that span both modern scientific and research institutes (like Harvard's positive psychology department or the UCLA mindfulness institute) to ancient spiritual traditions that talk about the incredible power of meditation.
On this site, I've compiled a few of my favorite meditations that are freely available across the web. Success with meditation is all about finding the style that's right for you, so I encourage you to spend some time experimenting with different types of styles.
Don't feel like you have to force yourself into a lotus position in order to meditate correctly. Meditation can be as simple as taking a few seconds to notice your breath. Viewed more broadly, then, it is something that you can literally do anywhere, at any time.
That said, if you're going to commit to a consistent meditation practice, it's best to have a dedicated space in your home where you can sit quietly and comfortably without being disturbed. Try to sit with an erect spine either in a chair or on a mat or meditation cushion. The most important factor is that you are comfortable, which will allow you to help focus and improve your concentration.