Forgiveness is one of the fundamental teachings of A Course in Miracles. It is a theme that emerges consistently throughout the course, but how, exactly, can you learn to forgive?
In this post I'll outline the core path to forgiveness as given in ACIM, and help you take the steps to forgive yourself and others for any challenge you might be facing.
Read more about how to apply these teachings to your daily life.
What Does Forgiveness Mean in ACIM? The Course's Definition
Before we can understand the 3 step process for forgiving yourself, it's important that we take a moment to consider how A Course in Miracles defines forgiveness, and what, exactly, it means to forgive.
Fortunately, ACIM provides a clear definition of forgiveness:
"Forgivenessrecognizes what you thought your brother did to you has not occurred. It does not pardon sins and make them real. It sees there was no sin. And in that view are all your sins forgiven."
This quote is taken from the Workbook, Part II, 1.
This definition goes back to the core idea of the course that only love exists. If anger, frustration, or hatred is a response to some action that needs forgiveness, then one must understand that these emotions are not real. They represent not a sin, in the traditional sense of the word, but rather a lack of awareness of unconditional love.
Forgiveness, then, is the process of coming back to unconditional love.
The 3 Steps to Forgiveness
Now that we have a clearer understanding of what forgiveness means in ACIM, we can look at the process to overcome it. The course offers 3 steps.
Step 1: Seeing The Origin of the Problem
Step 2: Deciding to Forgive
Step 3: Receiving Forgiveness
In the first step, you must recognize that the origin of any problem is always within yourself. The course teaches us that the external world is merely a symbol, or a reflection of, your current beliefs and understandings.
In order for you to have an experience to forgive, you must have believed that some other person or force caused a negative event to happen to you. However, this is never the case. All individuals are always acting in service to you, and can only reflect your current attitude.
Therefore, before you can forgive any other, you must recognize the challenge always lies within yourself.
Once you understand this concept, you can proceed to the second step of forgiveness, which is the decision to forgive.
To make this decision, you must understand that you are already making a decision about the event in question: currently, you are choosing not to forgive yourself or the other person.
You are only making this decision because, on some level, you believe that the frustration or anger caused by the experience is worth perpetuating. By not forgiving, you continue to exist in the old energy. But, since this energy (which represents a lack of love) isn't real, it is an error in your thinking.
Choosing to forgive, then, is simply the decision to stop withholding forgiveness. It is the decision to choose love over fear. When you prioritize love, you will change your decision, and forgiveness will be yours.
This brings us to the third step, which is not your work. In the third step of forgiveness, you let go of your problem and turn the solution over to God, or universal energy.
This surrender happens instantly, as soon as you allow it to (by completing steps 1 and 2).
In other words: when you are truly ready to forgive, All Is Forgiven.
Learn more about the key points from A Course in Miracles.
Prayer and Meditation for Forgiving Yourself and Others
One of my favorite Forgiveness Prayers from A Course in Miracles comes from Lesson 62, which reads:
"Forgiveness is my function as the Light of the World."
Whenever I feel I have a blockage I need to forgive, I invoke this phrase as a simple affirmation,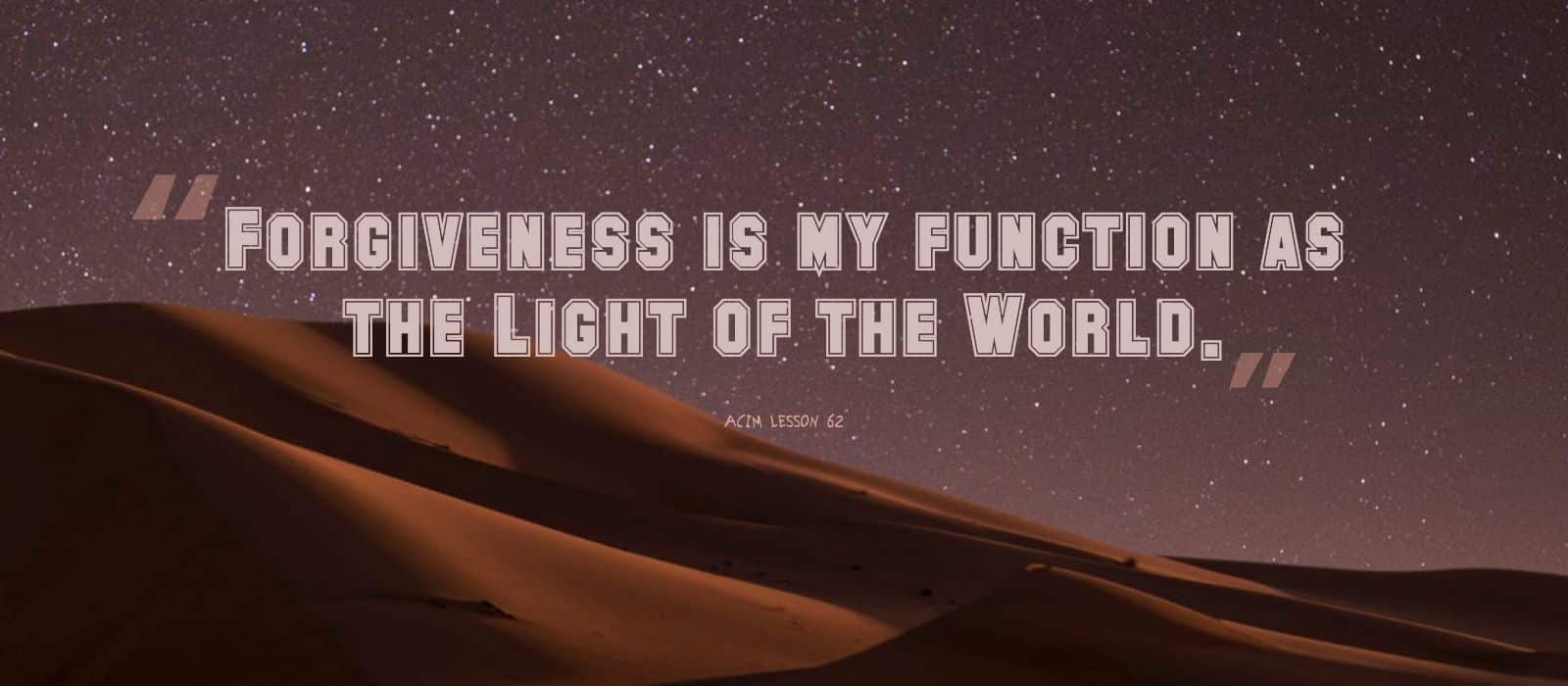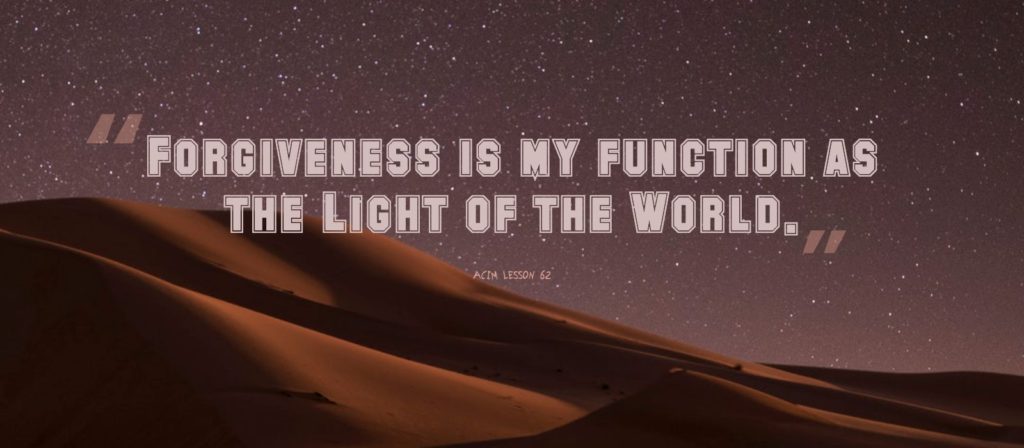 Read more about how to use affirmations.
You might also like to try this guided meditation for forgiveness, based on a reading of Lesson 68. The music contains binaural beats in the background, to help you enter into a trance state and internalize the words read from the course.
Quotes on Forgiveness from the Course
The following are some of my favorite A Course in Miracles forgiveness quotes.
"You have no idea of the tremendous release and deep peace that comes from meeting yourself and your brothers totally without judgment."
"The only meaningful prayer is for forgiveness because those who have been forgiven have everything."
"Forgiveness is the key to happiness."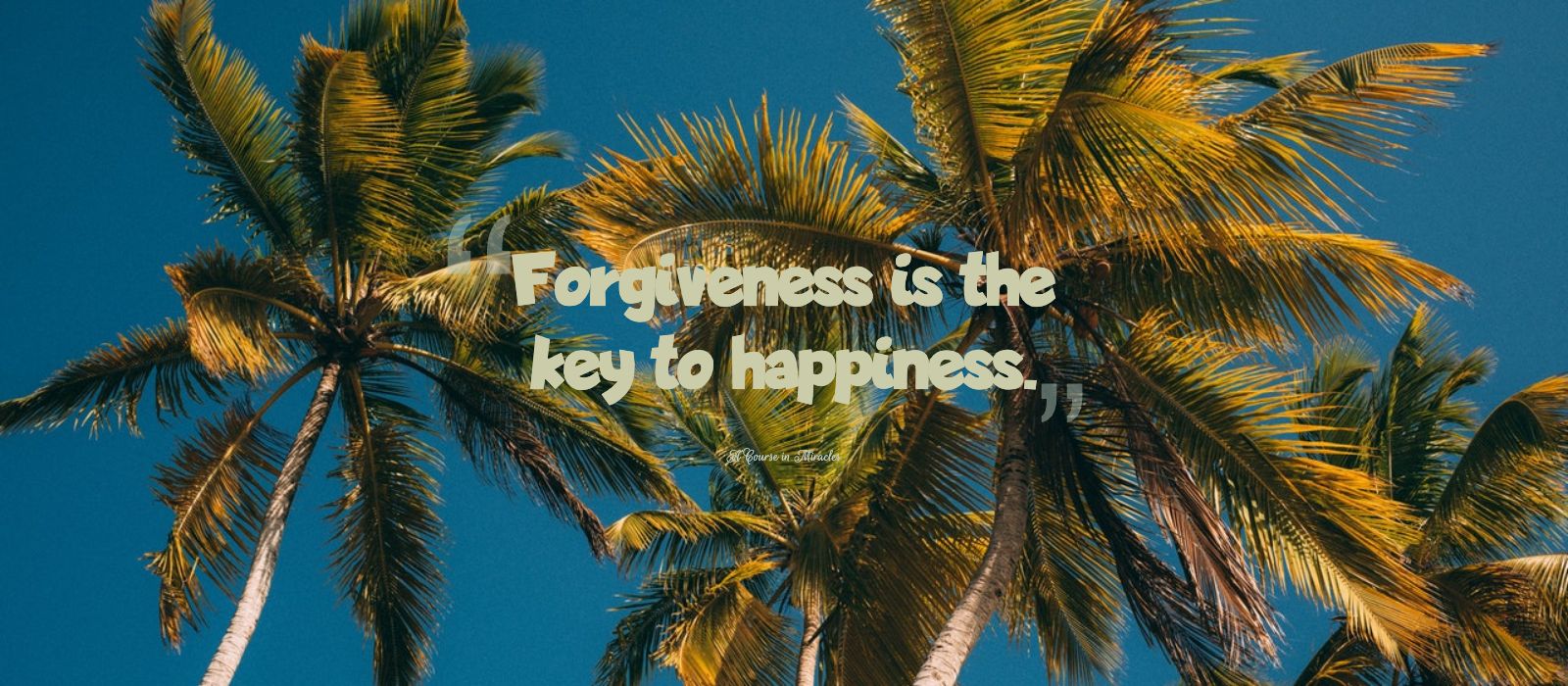 I also love this quote from Marianne Williamson:
"Forgiveness releases the past to divine correction and the future to new possibilities. Whatever it was that happened to you, it is over. It happened in the past; in the present, it does not exist unless you bring it with you. Nothing anyone has ever done to you has permanent effects, unless you hold on to it permanently." – Marianne Williamson
To learn more about the teachings of A Course in Miracles, sign up for our daily lessons and insights from the course.