In The Seat of The Soul, Gary Zukav explains the core principles that we each need in order to take the next steps in our spiritual evolution.
One of the most important lessons from The Seat of the Soul is the chapter on Intention. In it, Zukav writes of the often overlooked power that our intentions hold, and how we can use a conscious awareness of our intentions in order to create the life we truly want to live.
Related Post: How To Live a Spiritual Life: 10 Practices for Daily Growth.
Gary Zukav and Oprah Discuss Intentions – Interview on SuperSoul Sunday
In this great clip, you can listen to Oprah and Gary Zukav discussing the power of intentions and the role they play in your daily life.
The Role of Intention
Zukav teaches that intentions have a prime place among all of the principles of modern spirituality, because from your intention everything else in your life will flow.
The key to understanding this point is to understand how intentions create karma. When you set positive, loving intentions, you create positive karma, which brings you positive life experiences. If, however, you have destructive, fearful, or otherwise negative intentions, this will also create karma, and you will experience whatever is necessary to help you to release that negativity.
This means that our intention, in every moment of every day, acts like a lever determining our future experiences. We have the ability to choose constantly from a state of conscious intention, though we often forget to pay attention to the intentions we are setting as we go about our daily lives.
There are some easy guidelines for setting daily intentions that you can follow, but by far the most important takeaway is to act consciously from a state of love rather than fear.
Related Post: Discover Wayne Dyer's 7 Faces of Intention.
Guided Meditation on Intention
You can also access a free guided meditation on intention by Gary Zukav on The Seat of The Soul website. Click here to listen to the meditation.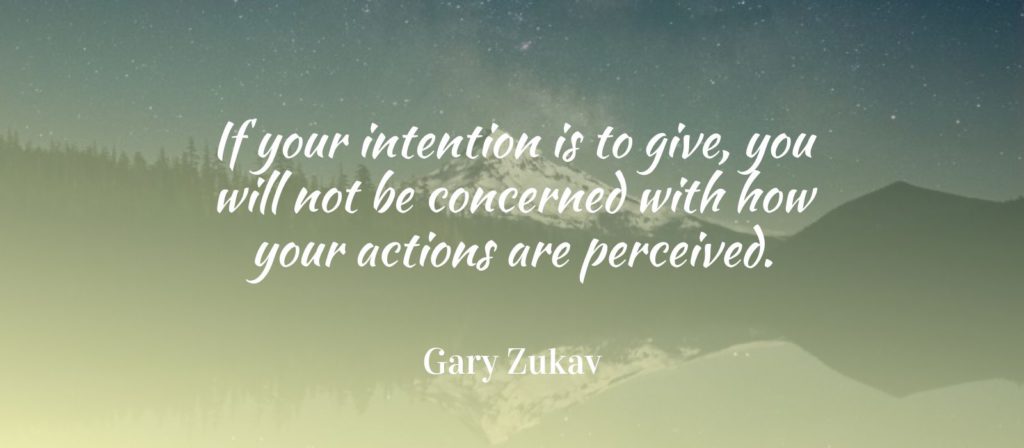 More Resources from The Seat of The Soul
If you want to learn more about Zukav's work, check out the following posts.