If you've read any of the teachings of Neville Goddard, then you have probably heard him mention a principle he calls The Law of Assumption.
This principle appears throughout Goddard's books, and is one of the cornerstones of his entire philosophy.
In this post I'll outline the basic idea behind this law, and share a great lecture by Goddard himself, explaining it in his own words.
How The Law Works: Meaning and Definition
Firstly, it's important to understand what this law actually means. Goddard teaches that the way to create anything you desire is simply to assume the feeling of your wish fulfilled.
The reason is that nothing exists outside of your own consciousness, and your entire experience of the world is a symbolic representation of where your consciousness currently stands.
To change anything in your life, then, you have to change the beliefs and assumptions you hold about it.
Furthermore, everything that you experience is a result of your changing consciousness, so Goddard teaches that changing your assumptions, and assuming the presence of your desire, is the only thing that will bring about your aim. Action is irrelevant, since action itself is a symbol of your state of mind. Your shift in consciousness is the only thing that matters.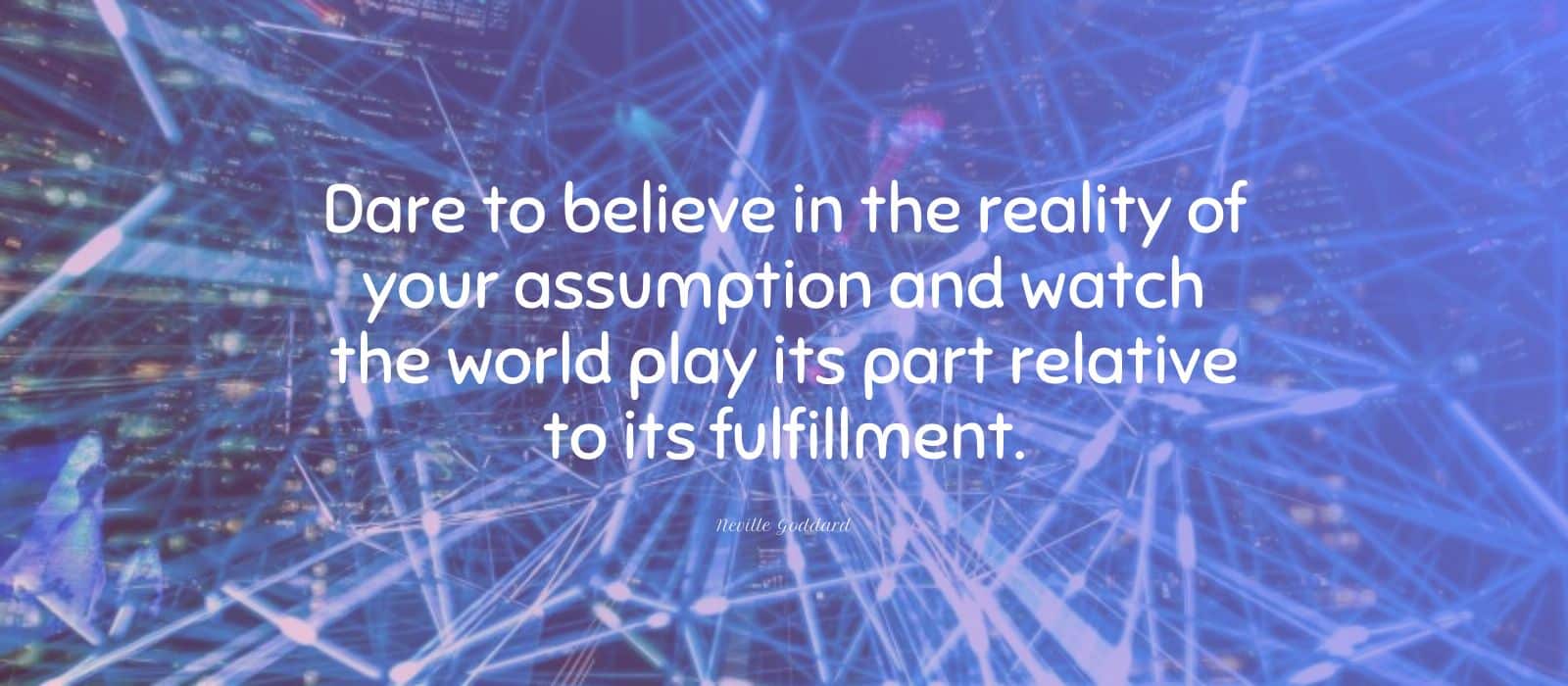 Finding The Feeling Of Your Desire
In order to assume the nature of your desire, you must simply pretend that you have already achieved your aim. Imagination creates your reality, and the more vividly you can imagine yourself into an experience, the more quickly you will be able to experience it in the physical world.
The key here rests with your feeling. It is not enough to simply think through a desired scenario, if in the back of your mind you do not believe in it. You must have faith, you must access the way that you think you will feel once you attain your desire, in order for the practice to have the desired impact.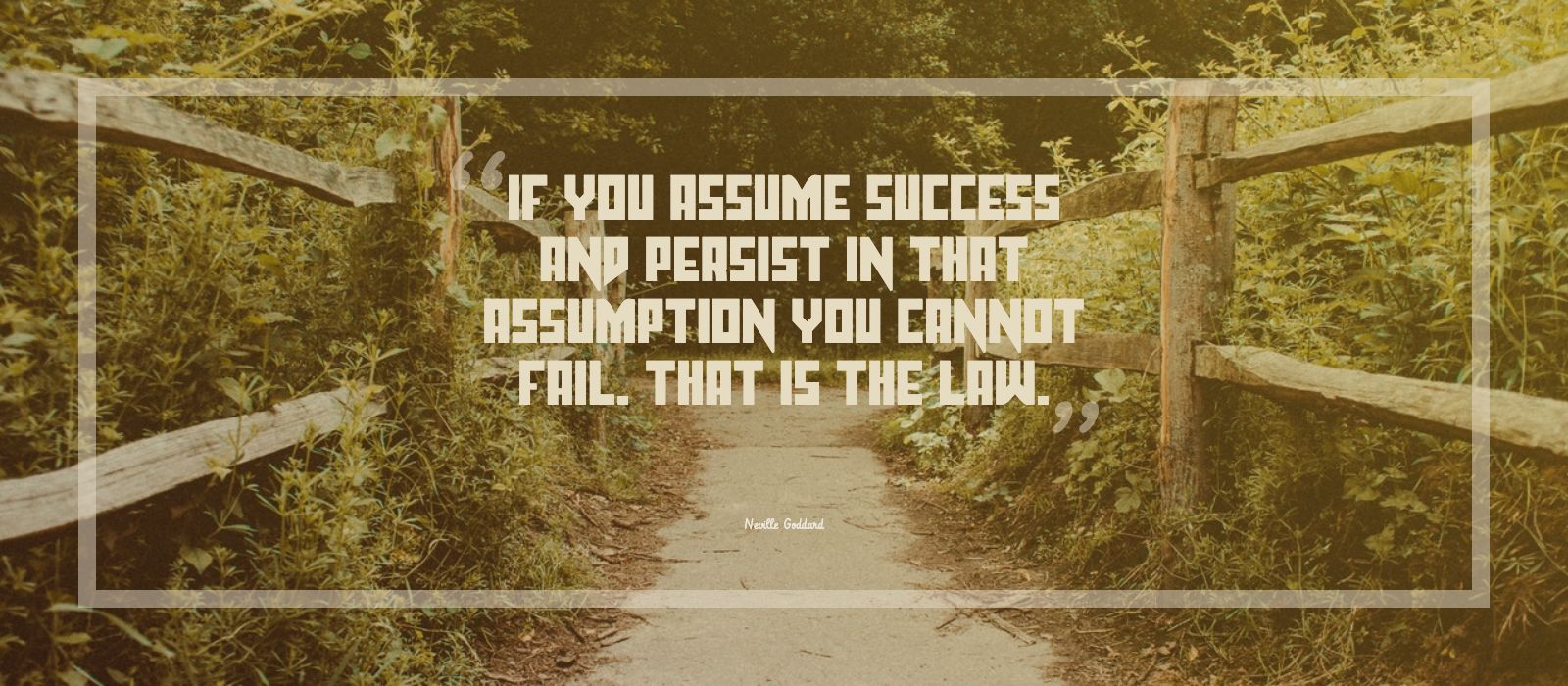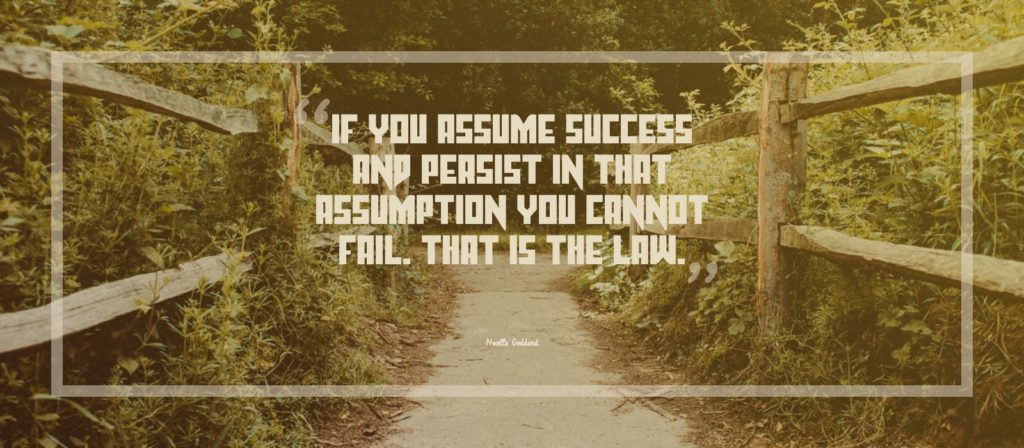 Check out these 3 Neville Goddard exercises for manifesting results in your life.
The Importance of Persistence
If you can imagine yourself into your desired state of being, then you have, for all intents and purposes, already achieved your aim.
The physical manifestation of your goal is a secondary reaction, a reflection that you will experience, so long as you maintain the feeling of the wish fulfilled.
Where most people fail to apply The Law of Assumption successfully is because they do not maintain the feeling of their aim long enough for it to appear before them. They do not persist in it, but instead allow the physical world to convince them that it is not realistic or possible for them.
Instead, you have the power to put yourself on a strict mental diet, only allowing your preferred experience of the world to influence the assumptions you hold about yourself, and using techniques like the power of revision to change any appearances that may seem to get in your way.
Only when you can maintain the feeling, despite all physical evidence to the contrary, will you be able to manifest the aim that you have chosen for yourself.


Lecture on The Law of Assumption by Neville Goddard, 1969
In this video, you can listen to the audio recording of Neville Goddard giving a lecture on the law of assumption. In it, he explains what this law is, and how you can use it achieve anything that you set your mind to!
How Is The Law of Assumption Different from The Law of Attraction?
One common question that many people have when first learning about The Law of Assumption is whether or not it is the same as The Law of Attraction.
In fact, it is more similar to what is commonly called The Law of Vibration, and when you look at these 3 laws holistically you can begin to understand them more clearly.
The Law of Vibration states that you are always experiencing a physical world that is an exact match to your state of consciousness, the current vibration and state of being at which you are operating.
The Law of Attraction is a law of momentum. It dictates what energy you will receive, given your current vibration. It also indicates how quickly you are moving towards your goals, or keeping yourself out of reach of them.
Related Post: 3 Bob Proctors Videos That Explain The Secret To The Law of Attraction.
The Law of Assumption fits into these two principles, because it states that you can always achieve any aim you set for yourself, so long as you assume the feeling (the state of being/the vibration) of your aim.
In other words, The Law of Assumption is a principle you can enact to help you work directly with the corresponding laws of vibration and attraction.