In this post I just want to share a very simple, but very powerful prayer for forgiveness. This is traditionally a Buddhist prayer, but it can also be used secularly or in conjunction with other major religions, because it is ultimately not about any doctrine, just about how to forgive yourself and others, with the aim of beginning to live a life of loving kindness and compassion.
This prayer is powerful because it revolves around two primary themes.
The first is that forgiveness is something that is universal. In your spiritual quest, your aim is to become so compassionate that you understand that every action that appears to be taken against you (and every action you take that may appear to harm another), is actually the result of confusion. It recognizes that there is only love, and anything that is not love, is not real.
The second takeaway from this prayer is that it implies a cycle of continuous renewal. You may forgive once, and feel better temporarily, but true forgiveness is a process, a choice that is re-made with each passing moment. When you learn to forgive completely, you are making a choice in every moment to feel peace rather than anger, and love rather than fear.
Read more about Loving Kindness, also known as Metta, or you can also click here for a guided loving kindness meditation.
Hope you enjoy.
Forgiveness Prayer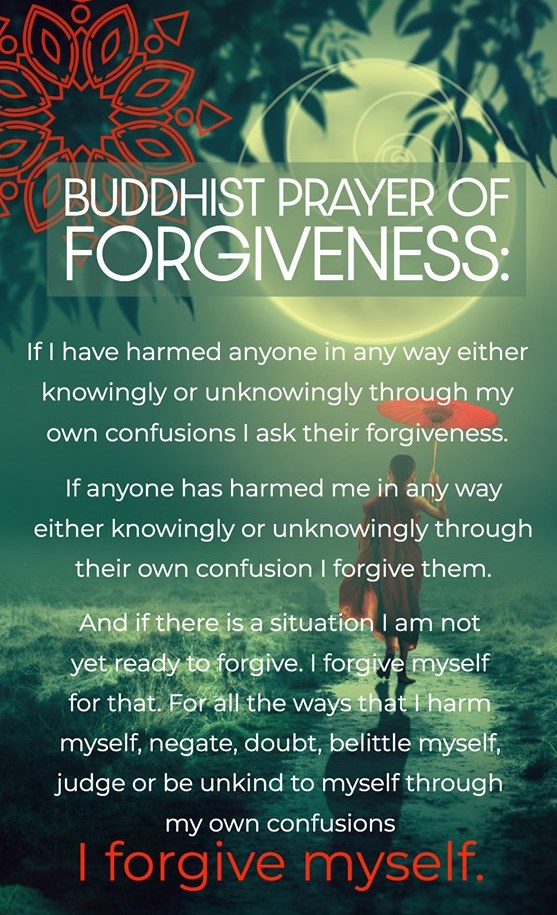 If I have harmed anyone in any way either knowingly or unknowingly through my own confusions I ask their forgiveness.
If anyone has harmed me in any way either knowingly or unknowingly through their own confusion I forgive them.
And if there is a situation I am not yet ready to forgive, I forgive myself for that. For all the ways that I harm myself, negate, doubt, belittle myself, judge, or be unkind to myself through my own confusions: I forgive myself.
Learn more about how forgiveness can improve karma and release negativity.