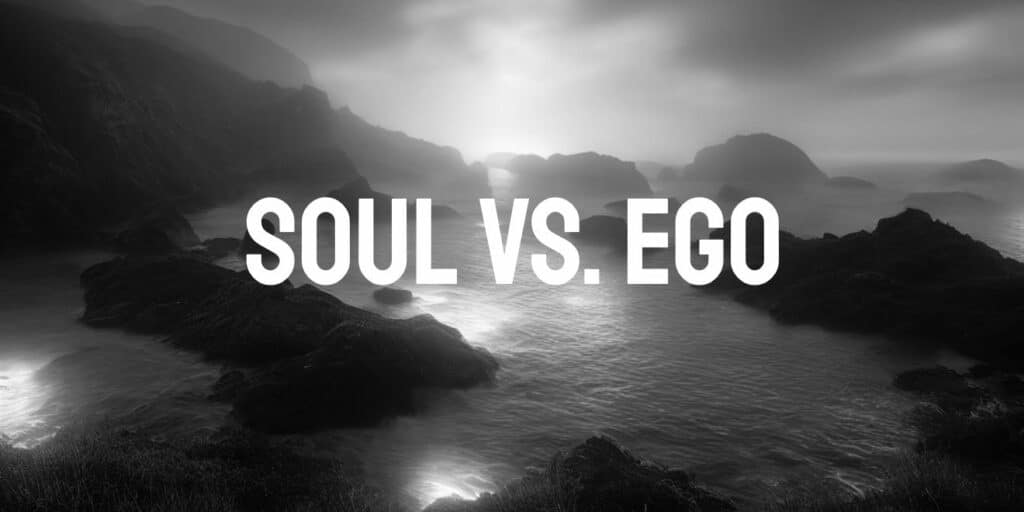 One of the fundamental pillars of most spiritual practices revolves around a distinction between different levels of self. Depending on the practice, this might be presented in terms of levels of consciousness, or as your ability to embody higher ideals, or higher versions of yourself.
Or, perhaps most commonly, the idea is often talked about in terms of separating the ego from the soul. In the spiritual sense, your ego is the person you normally think of as "you." The ego has physical needs, wants, and desires, while the soul exists on a higher non-physical plane. Often, we think of the soul as guiding the ego forward in it's level of awareness, a sort of "Higher Self" that can inspire you and point you in the right direction.
The problem is: while this all sounds great in theory, how do you actually practice it?
How do you separate the soul from the ego? How do you know when the thoughts you're thinking are "inspired" from a higher level, or if they are just another layer of the ego's thoughts? How can you identify which thoughts come from Spirit, and which are from Self? And, how can you use this difference to follow your intuition and live a more inspired and fulfilled life?
What Is The Ego in Spirituality?
Ego Spiritual Meaning
In spiritual terms, you can think of your ego as the "everyday you" who lives and works in the world.
Your ego is the driver of your everyday needs, which includes your biggest accomplishments, dreams and aspirations, as well as the things you perceive as faults or wrongdoings.
In other words, the ego is the little voice in your head, constantly thinking thoughts about your life.
The ego:
Tells you what you "should" or "must" do.
Analyzes whether life is going to plan.
Critiques you when things could be better.
Complains about the world around you.
Judges yourself and others for their actions.
Drives most of your daily emotions.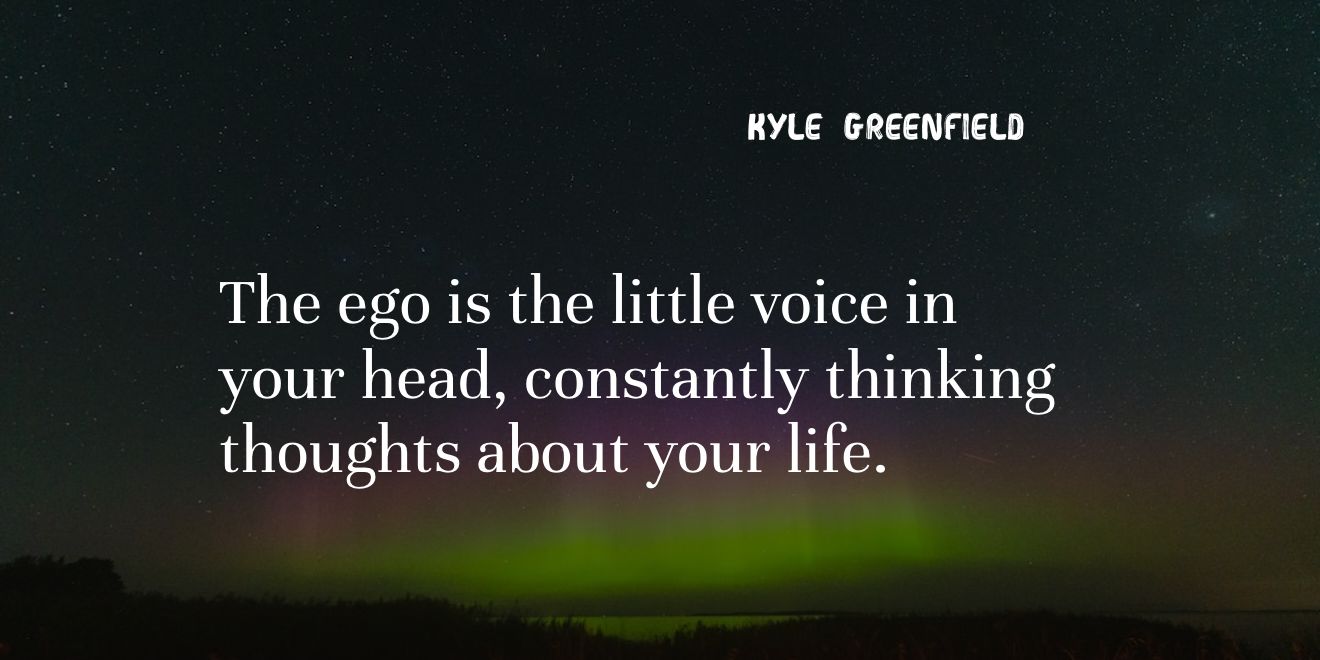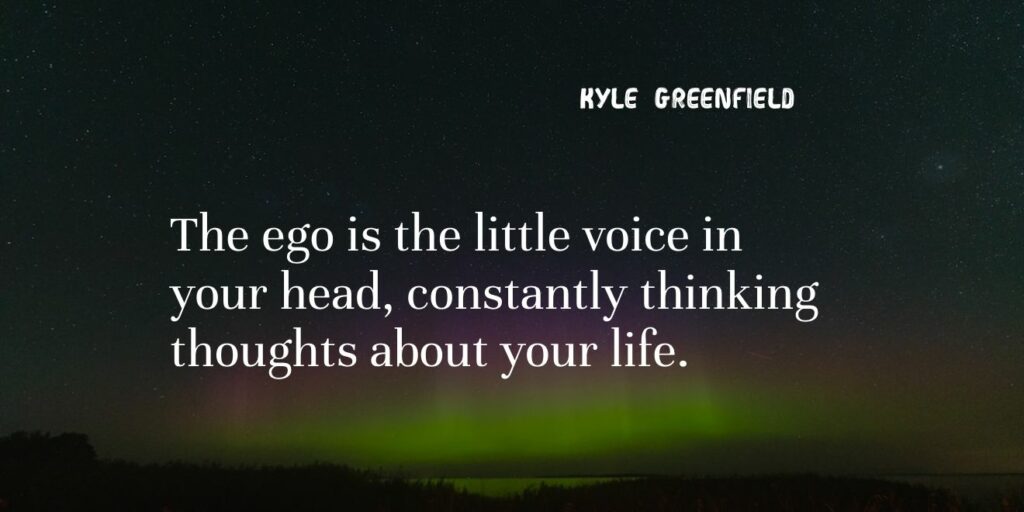 What is the Purpose of Ego?
It is common for spiritual seekers to frame the ego in a negative light. On the surface, it seems like the ego blocks us from achieving higher levels of consciousness, but this is not negative.
The purpose of the ego is to define the singularity of your individual experience. It provides contrast, which encourages your inner growth.
Without the ego, you would have no sense of "I" with which to frame your experience of the world, and without this sense of individuality you would not be able to realize the broader depth of your Being in the same way.
Thus, the problem is not that we have an ego. The problem is that – for most of us – the ego drives most of our thoughts and actions, without us ever becoming aware of it. It runs wild, and we must learn how to tame the ego if we want to live more meaningful, spiritual lives.
Ego vs. Essence
In day to day life, we tend to think of ourselves as individuals living within a broader world. We think that we are the set of traits and characteristics we embody. We say things like:
I am John.
I am a father.
I am a lawyer.
I am a Yankees fan.
I am intelligent.
I am kind.
Anything that comes after "I am" in the examples above are symbols of the ego. The ego is the part of you that identifies with the thoughts and actions of the world.
Your essence goes much deeper.
At your core, your essence is a sense joy, bliss, love, and light. You are intimately interconnected with everything around you, and behind everything is a profound, impermeable state of joy.
This joy is not the happiness you feel on a day to day basis. It is not the joy you feel when something goes well, but rather a profound sense of peace and well-being that originates deep within you.
When you express this inner joy, you experience your essence, and you become present. Anything that detracts from that joy originates from the ego, and the many stories it tells.
Spirit vs. Ego
Perhaps the most important distinction you can make on your spiritual journey is to begin to recognize the difference between thoughts that come from your ego versus insights that come from your soul, or spirit.
When you are new to this practice it can be difficult to tell the two apart, but, with practice, distinguishing the ego vs spirit can become easy.
Ego-driven thoughts come from the logical, analytical mind. They are often linear in nature, and they often feel like they are coming from the voice in your head. If you were to imagine your ego as another person, you would be able to have a conversation with it.
When you operate from the domain of the ego, first you think a thought, and then you think a thought in response to that thought. This is how we operate, most of the time (often without realizing it).
Thoughts that come from your inner, spiritual energy (aka: your Soul, Spirit, Source, or your Higher Self) use whichever term resonates with you), are rarely linear. Often, they do not even feel like thoughts.
Instead, they feel more rounded, holistic, or all-encompassing. Often, you might have the sense that you cannot articulate the thought from spirit, but you just know. This is a primary characteristic of communicating with your intuitive mind, or Higher Self.
What Does It Mean to Choose Soul Over Ego?
Related Post: How To Align with Your Inner Being.
When people talk about choosing Soul over Ego, they are usually talking about learning to think and act from a higher state of consciousness.
This process is described in many ways, across many different spiritual disciplines, but fundamentally it is about choosing the thought or action that comes from your inner, intuitive sense of knowing, rather than a logical or analytical state of mind.
In Happiness University, we explore how you can learn how to make this choice by tuning-in to your inner resonance – the natural, inner joy that we all have access to.
When you learn how to connect to this inner energy, you can use it to guide you into right choices, and right actions, using a process that feels natural and comfortable for you.
Over time, this resonance will guide you to align more and more consistently with your Higher Self, or soul, so that you can become more present, and rest into a state of simple joy, peace, and well-being, every single day.
Click Here to Learn More About Happiness University.
Ego vs. Soul Quotes