Mindfulness has been proven to be a natural remedy with no negative side effects for anxiety, ADHD, infertility, and even helping dementia!
There are thousands of resources out there to learn mindfulness from or even develop special techniques from. We have created a list of the top 10 best books on mindfulness to get you started or to get you deeper into your practice.
What Is Mindfulness?
Mindfulness can be applied to any of the senses. This includes mindfulness for the sense of taste or even of sound. The practice of mindfulness is a practice of allowing your awareness to encompass surrounding senses without labeling or judging them.
The goal of mindfulness is to simply witness objectively. It is like the mindset of approaching everything as a beginner and possibly finding endless joy while doing so!
Mindfulness For Anxiety
Jon Kabat-Zinn is the founder of Mindfulness-Based Stress Reduction (MBSR). It is a formal eight-week program that teaches people how to practice mindfulness by expanding their awareness while removing judgment from their perceptions.
Read more about how mindfulness can help cure anxiety here!
It has become extremely widespread and is taught all over in places such as hospitals all the way to spiritual retreat centers. It has been used to treat anxiety, depression, stress, and pain.
Using mindfulness to reduce anxiety does not specifically have to involve an eight-week MBSR program. It is accessible to everyone, which is why we compiled a list of the best mindfulness books for anxiety.
Top 10 Mindfulness Books
This list is of our favorite mindfulness books. You can find some of the best spiritual authors here. You may also enjoy our list of the best law of attraction books!
Peace Is Every Step: The Path of Mindfulness In Everyday Life
First off, world-renowned Vietnamese Thiền Buddhist monk, Thích Nhất Hạnh, authored this book which inspires one to see the beauty in every moment with fresh eyes. He teaches you how to reawaken your perception of gratitude.
In this simple, easy to understand, and right to the point lessons, Thích Nhất Hạnh, reminds us there is pleasure and joy in how we eat, the fact we can smile, and the air we breathe. The path of humbleness reawakens our inner peace.
This book teaches you how to appreciate every moment in front of you. Reminding you of the little ways in everyday life you can feel grateful will help lower anxiety as well as help you work with the law of attraction.
He has become world-famous for his simple and joy sparking quotes such as this one below:
Wherever You Go, There You Are
This book was written by, Jon Kabat-Zinn, the creator of the eight-week formal program MBSR. In this book, he relates to both advanced and beginner meditators and guides them through the practice of meditation and mindfulness.
Here this book dives more into the practice of meditation rather than basic techniques presented in Full Catastrophe Living. He explains the concept of meditation and mindfulness as a way of living rather than simply a small practice.
Check out our list of Free Online Law of Attraction Book.
A Year of Mindfulness: A 52-Week Guided Journal to Cultivate Peace and Presence
If you're ready for an absolute deep dive into cultivating new habits and shifting your shift, grab this book! For one year it will be with you to guide you through crafting new habits, new perspective, and therefore a new you!
You may enjoy our related article: 5 Spiritual Books To Open Your Mind.
This book works to open the reader's eyes to a new theme each week. It will give you time to live out its teachings which can feel even more integrative than digesting a book in one week.
A Year of Mindfulness covers a wide variety of tops including connecting to mother earth or even mundane tasks like folding laundry. This book is a holistic approach that will over the course of one year bring you into a new way of living.
How To Do Nothing: Resisting The Attention Economy
Jenny Odell wrote filled this book with a rich and thought-provoking message on why it is so important to return to fully embodying our presence in the moment. From art to lessons from Native American history Jenny depicts why the present moment is purely worthy of our full attention.
This book is great for conquering present day and age obstacles and today's culture of business and over-stimulating entertainment. This book challenges us to find the brilliancy and gift within the present moment and people you are surrounded with.
Try our guided mindfulness mediation for increasing the sensation of touch!
The Power of Now
This is one of the most famous books for learning what it truly means to be in the present moment. It is a must-read for those interested in living their life to the fullest. Eckhart Tolle wrote this best-selling book in 2001 which since has become a hit in the spiritual community.
For many people, this book is a foundational point to build the rest of their spirituality off of. This book gives you the guide to finding pure unshakable peace by living in the present and letting go of the future or past.
It guides you to reap the most joy you can out of life by being here now. Working with being present in the moment can also help you manifest the life you desire through the law of attraction.
Mindfulness in Plain English
Originally published in 1994 and written by a Sri Lankan Theravada Buddhist monk, Bhante Gunaratana, this book functions as a strong foundation for meditation and mindfulness.
He gives an introduction into mindfulness as well as covering topics such as loving-kindness and compassion as well as Buddhist meditation. This book has a relaxed style that offers potent advice which has sold over a quarter of a million copies.
Learn more about how to practice loving-kindness and compassion in daily life here.
Full Catastrophe Living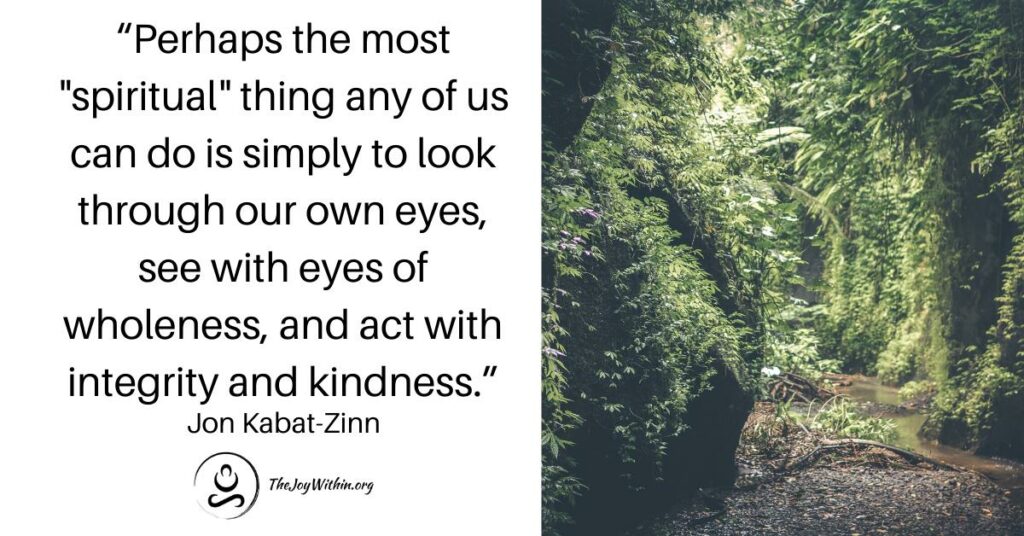 This is another book by Jon Kabat-Zinn, the founder of MBSR. This book was originally in 1990 and has been revised in 2013. Still, it is helping thousands of people find the mindfulness "exit" out of suffering from anxiety.
Jon Kabat-Zinn's mindfulness-based stress reduction program that greatly impacted psychology will guide you through creating your own meditation practice. It will lead you to better manage life's obstacles and maybe even find peace along the way.
This book is a great clarifier and foundational point or simply a reminder on how to not take life too seriously by cultivating mindfulness and finding joy in the present moment.
If you are beginning a meditation practice we have just the 30-day course to help you out.
The Little Book of Being: Practices and guidance For Uncovering Your Natural Awareness
Diana Winston reminds us of our natural and innate ability to tap into inner peace and feel timelessness. She teaches the concept of "natural awareness" which relates to the state we were able to tap into as a child and purely enjoy even the simple things.
From deeply focused practices to "natural awareness" practices she brings you to explore a wide range of mindfulness mental states that she covers within the 72 chapters of this book.
A Handful of Quiet: Happiness In Four Pebbles
This is another book by Thích Nhất Hạnh though this one is for children! This pebble meditation is a groundbreaking playful technique is practiced at the Plum Village Tradition with children.
The Plum Village Tradition is a Buddhist school in France named after the Plum Village Monastery located in France and founded by Thích Nhất Hạnh and Chân Không.
The Little Book of Mindfulness: 10 minutes a day to less stress, more peace
It was written by Patrizia Collard in 2014 and is a great book for small and easy to digest mindfulness practices. If you are not ready to dive into a formal meditation practice this book shows you how you can still reap the benefits and apply mindfulness.
Requiring only 10 minutes a day, Patrizia teaches you how to integrate mindfulness and destress. It comes with beautiful illustrations and can be adapted into modern-day fast-paced lifestyles.
Continue Reading
We have another list of the 6 best books to inspire you to think positively!